Bathroom Design and Remodeling Services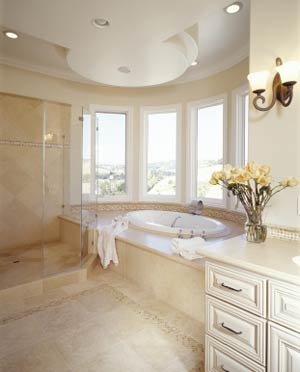 Tired of an old worn out bathroom? Need a functional upgrade? ENTrepreneur Hustle is your solution.
Choose ENTrepreneur Hustle for bathroom remodeling services in Ohio
The bathroom is an often ignored yet important feature of any home. Upgrading your bathroom can have a huge impact on a home both aesthetically and functionally.
A bathroom remodel might focus mainly on the aesthetic and primarily aim to make your home more pleasing to the eye. But many remodeling efforts are also designed to make a very functional difference in your home (as well as offering a visual upgrade). Tub to shower conversions, for example, help you create a more useful bathroom while also being more attractive. Ideally, a good bathroom remodel does not just make the room look better, but also makes it more livable.
Bathroom remodeling is not easy, however, and requires a skilled contractor. You need a contractor able to provide renovations that are both effective and affordable while also being reliable and courteous themselves. ENTrepreneur Hustle is just the type of contractor you need. Here we are proud to stand by our work and boast a reputation for excellence and reliability. Contact us today to schedule your estimate!
Bathroom remodeling services in Ohio
At ENTrepreneur Hustle we pride ourselves on functional upgrades that are also aesthetically pleasing. Whatever your vision for your bathroom, we can help you make it a reality. Some of our specific bathroom remodeling services include:
Bathroom Vanities: A huge part of any bathroom are the vanities and they play a major role in your bathroom's appearance. Therefore, we offer a variety of different types of vanities so you can make your bathroom's style your own.
Bathtub refinishing: Bathtub refinishing is an affordable alternative to a tub replacement. A tub replacement requires considerable commitment and expense, but refinishing is a way to get many of the benefits of a tub replacement without the same expense.
Liners, enclosures, and surrounds: Since showers and tubs are central parts of many bathrooms, a new enclosure, surround, or tub liner can have a drastic effect on your bathroom's style.
Flooring: Another noticeable part of any bathroom is the flooring. With our flooring styles, we can customize your bathroom to make it unique to you and attractive.
Tub to shower conversions: Bathtubs are often unnecessary for many homes. Why not make your old bathtub a shower instead? Our team can help you turn a tub into a full-time shower that is both more functional and more pleasing.
Top-notch bathroom design
Don't have a vision for your bathroom yet? Our experienced team can work with you to help you choose a layout and design that matches your preferences, budget, and home. Whatever your style, you can count on ENTrepreneur Hustle to provide the results you need.
Could your bathroom use a remodel? ENTrepreneur Hustle can provide. Contact us today to learn more and schedule your quote!
Looking for a price? Get a no cost, no obligation free estimate.